We are leading manufacturer, supplier and exporter of fine grade clean in place (CIP) and sterilization in place (SIP) system in India. We are precise in the fabrication of fine grade CIP/SIP system on a large scale worldwide. CIP/SIP systems are fabricated with top grade raw materials such as high grade stainless steel and carbon steel. We maintained essential universal standards during the fabrication of CIP/SIP systems. We have equipped modern machineries and technologies for the successful fabrication of top grade CIP/SIP systems.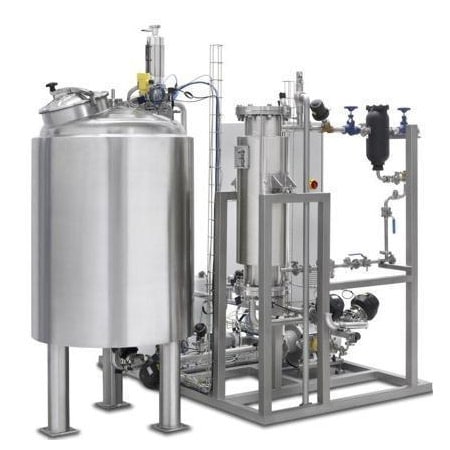 CIP/SIP systems are designed for automatic cleaning and disinfecting without major disassembly and assembly work. We have designed, and developed mobile and fixed CIP/SIP system Units for sanitization and sterilization in various industries. These systems are customized in automated or semi-automated models as per the required time cycle for cleaning and sterilization as a part of current good manufacturing practice requirements from portable to large fixed multi-tank system.
CIP/SIP system is easy to install, operate and maintain. It has low maintenance cost and require minimum support after installation. CIP/SIP systems are having great strength to resist heavy workloads and are heavily wear and corrosion resistant. They acquire minimum power consumption as they are energy efficient offer large productivity. They are highly workable in harsh conditions and remain unaffected. They are highly durable in nature and ensure longevity of life cycle. CIP/SIP systems require minimum support after installation.
CIP/SIP systems are highly recommended for application in industries such as pharmaceuticals, chemicals, food & beverage and many more. These systems are the result of effortless engineers who never leave the chance to bring the best available features in the SIP/CIP filtration systems. We will stop at nothing to create the best for our valuable clients. Clients can avail classified range of CIP/SIP system at reasonable prices on wide scale worldwide. We can customize CIP/SIP system as per the defined industrial requirements of valuable clients. Fayme engineering never leave the chance of disappointment for their valuable clients. You can contact us anytime; we are highly involved to provide hassle free solutions for precise requirements of CIP/SIP systems to the great extent.