Zero Dead Leg Valve: Ensuring Hygiene and Efficiency in Process Industries
Fayme Engineering is a renowned manufacturer and supplier of high-quality zero dead leg valves in Gujarat. We have been providing our customers with top-notch products for over a decade, and our zero dead leg valves are no exception. Our valves are designed and manufactured using advanced technology and quality materials to ensure durability and reliability. Zero dead leg valves are commonly used in the pharmaceutical, biotech, and food industries where contamination is a major concern. These valves are designed to eliminate the buildup of bacteria and other harmful microorganisms, preventing cross-contamination and ensuring the purity of the fluid being transported.
At Fayme Engineering, we manufacture a wide range of zero dead leg valves to meet the diverse needs of our customers. Our valves are available in various sizes, materials, and configurations, making them suitable for a wide range of applications. Our valves are designed to be easy to clean and maintain, reducing downtime and increasing productivity. We use only the highest quality materials in the manufacturing of our valves, ensuring their durability and longevity. Our zero dead leg valves are designed to withstand high-pressure applications and harsh chemical environments, making them ideal for use in the most demanding industries.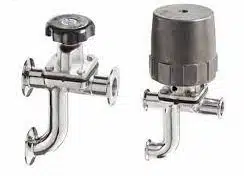 We have a team of highly skilled and experienced professionals who are dedicated to delivering the best quality products and services to our customers. We work closely with our clients to understand their specific requirements and provide customized solutions that meet their needs. In addition to manufacturing high-quality zero dead leg valves, we also provide excellent after-sales support and services. Our team of experts is always available to provide technical support and assistance to our customers, ensuring the smooth operation of their equipment. Overall, Fayme Engineering is a trusted and reliable manufacturer of zero dead leg valves in Gujarat. With our commitment to quality, reliability, and customer satisfaction, we have become a leading choice for industries that require high-quality valves for their critical applications.