What is high purity water?
Water is an integral part of life. It is essential ingredient used in various applications such as medical, laboratory, pharmaceutical, cosmetics, electronics manufacturing, food processing, plating, countless industrial processes and even the final rinse at the carwash. But High purity water Generation System have the significant role. Practically, water consists of several dissolved contents such as iron, magnesium, calcium, sodium, chlorides, phosphates, sulfates, and major inorganic contents. The process of removal of inorganic contents present in the water is done by deionization. Deionization is the process of removal of inorganic contents (ions) by ion exchange. Positive and negative ions are exchanged for H+ and OH ions respectively. This ion exchange process takes place in the bed full of resins specially meant for the ion exchange. Once the resin bed has reached its ion exchange capacity is regenerated which flush the contaminated ions leaving hydrogen (H+) and hydroxyl (OH) in their place.
Deionizers have four basic types such as disposable cartridges, portable exchange tanks, automatic units, and continuous units. Two beds deionizers have separate anion and cation resin beds. Mix bed deionizers use the same vessel for the separation of cation and anion. Mix bed deionizers offer high quality water whereas two-bed deionizers offer large quantity of good quality water.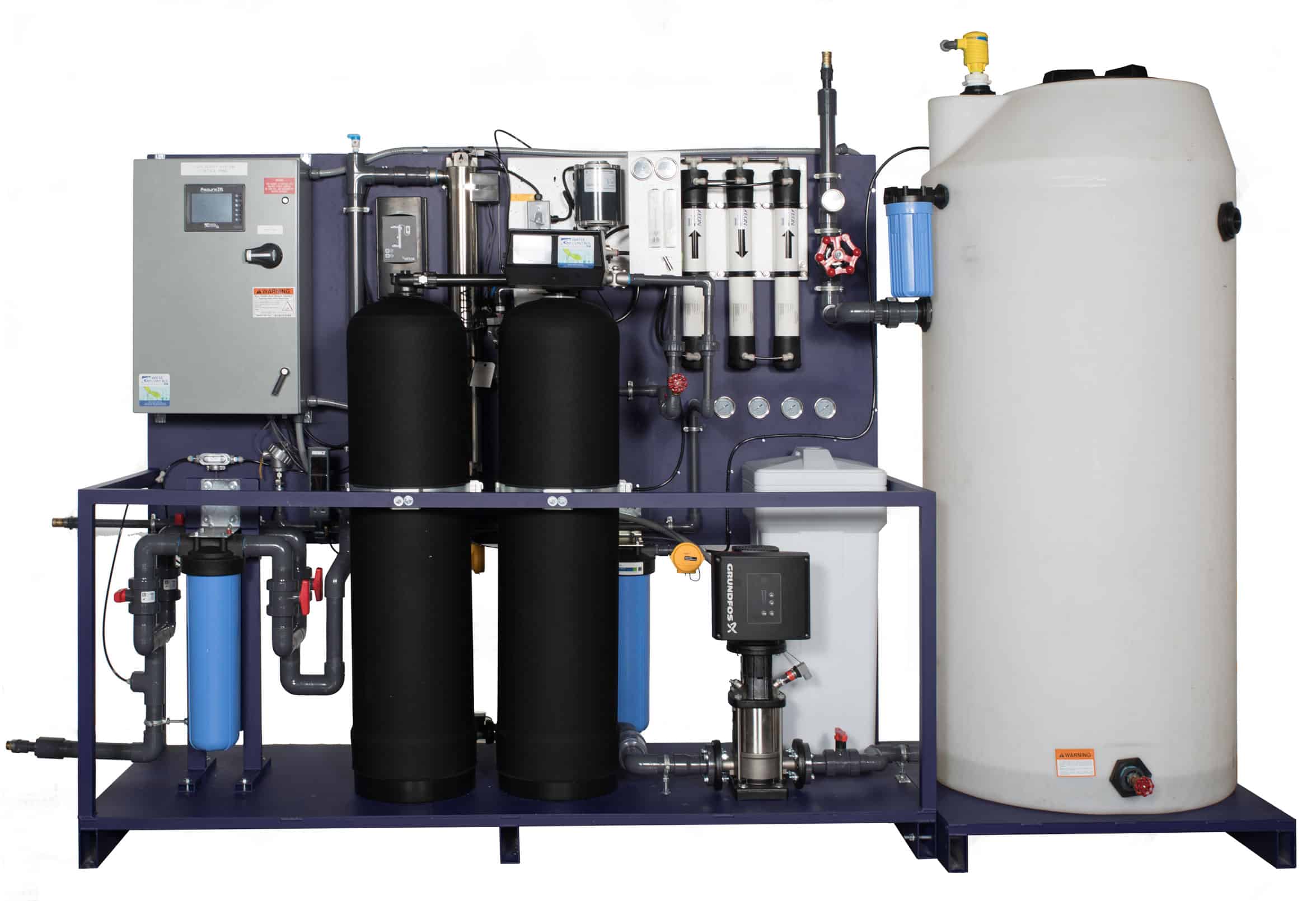 What is reverse osmosis system?
A reverse osmosis system is used to process hard water into soft water. We are Leading Manufacturer of RO Water System for Pharmaceutical Industry. It is a water purifying technology that forces hard water through a semi-permeable membrane under high pressure. The reverse osmosis system is used to desalinate the water from inorganic contents such as salt, minerals, chemicals such as chlorine, fluoride, and other microorganisms. The semi-permeable membrane present in the RO systems removes the contaminants present in the water and provides good quality soft water safe for drinking as well as for various industrial and commercial purposes.
Who are we and what do we do?
Fayme engineering is the famous manufacturer, supplier and exporter of high purity water generation systems in India. We offer a comprehensive range of products which includes SS Tank, SS Valve, SS Filter Housing and RO Filtration System Unit for Pharma industries, and much more. We provide superior grade of RO filtration system worldwide. We provide RO systems and spare parts for high purity water generation in an assured time frame given by clients.
We never compromise in the quality standards of RO systems and spare parts. Our highly qualified products are the results of stringent quality supervisions by experts. Our high purity water generation system have sturdy performance, made with robust construction needs less maintenance, having high tensile strength to resist heavy work load and have long lasting service life. Our RO systems ensure wear resistance properties and resist corrosion throughout the life span. Our superior grade purity water generation systems need less attention once installed. We offer these at reasonable prices and can customize as per clients requirement. We never leave the chance of disappointment for our valuable customers. You contact us time we are available 24 hours day/night to resolve your filtration requirement to the great extent.