Clean Room Utility Pendant Manufacturers
Fayme Engineering Pvt. Ltd. is a leading manufacturer, supplier, and exporter of clean room utility pendants designed for use in pharmaceutical, biotech, and semiconductor industries. Our clean room utility pendants are designed and manufactured to provide efficient and effective control of the cleanroom environment, allowing for seamless integration of cleanroom utilities and process equipment. Our clean room utility pendants are made with high-quality materials and designed to provide reliable performance in critical environments. The pendants are available in a range of configurations to meet the specific needs of our customers. We offer a variety of options for electrical outlets, gas outlets, data ports, and other utilities, all of which are designed to be easily accessible and to provide reliable performance.
Fayme Engineering Pvt. Ltd.'s clean room utility pendants are designed to meet the strictest standards for clean room environments. Our pendants are made with materials that are easy to clean and sterilize, ensuring that the environment remains contamination-free. They are also designed to be easy to install and maintain, minimizing downtime and reducing overall costs. Our team of experts has years of experience in designing and manufacturing clean room utility pendants. We understand the importance of providing reliable, efficient, and effective solutions for our customers. Our commitment to quality, innovation, and customer satisfaction sets us apart from other manufacturers in the industry. At Fayme Engineering Pvt. Ltd., we take pride in our ability to deliver products that meet the highest standards of quality and reliability. Our clean room utility pendants are no exception. We are dedicated to providing our customers with the best possible solutions for their cleanroom needs. If you're looking for a reliable and efficient clean room utility pendant manufacturer, look no further than Fayme Engineering Pvt. Ltd.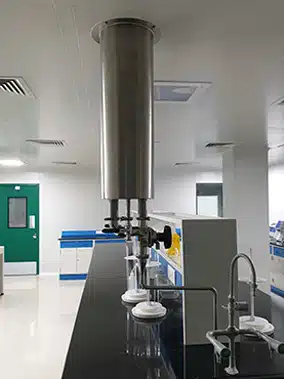 Utility Pendants are also known as Clean Room pendants which is very essential part of Pharmaceuticals Industries. Pendants are designed and manufactured with GMP Standards and Pharmaceuticals norms. Pendant contains utilities like PW Loop, RO water line, Compressed Air Line, Nitrogen Line, Pure Steam and Chill water line, etc.